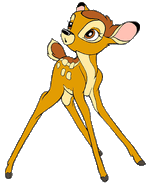 Film -
Bambi (film),
Bambi II
Games - Kingdom Hearts
Voice - Bobby Stewarts Donnie Dunagan Hardie Albright John Sutherland Noah Luke Alexander Gould
Other Names - The young prince
Personality - curious, naïve, shy, brave, docile, innocent, gentle, childlike, noble
Appearance - (young) a cute, little fawn (adult) a handsome, strong buck with antlers (both) big brown eyes
Occupation - the young prince of the forest
Home - The Forest
Allies - Bambi's Mother, Bambi's Father, Flower, Thumper, Owl (Bambi), Faline, Sora
Enemies - Man, Ronno
Likes - Hiding behind his mother when he's embarrassed, copying how the grown-up stags prance around
Dislikes - Ice skating, Forest fires, Hunters
Weapons - Antlers, Hooves, Head
Ad blocker interference detected!
Wikia is a free-to-use site that makes money from advertising. We have a modified experience for viewers using ad blockers

Wikia is not accessible if you've made further modifications. Remove the custom ad blocker rule(s) and the page will load as expected.