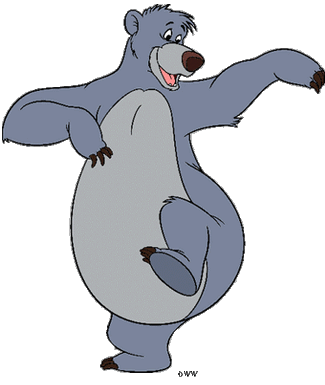 Films -
The Jungle Book,
The Jungle Book II
Game - TaleSpin, The Jungle Book
Voice - Phil Harris
Ed Gilbert
E.G. Daily
Pamela Adlon
Personality - laid back, fun-loving
Appearance - a grey sloth-bear
Home - The Indian Jungle
Allies - Mowgli, Bagheera, Colonel Hathi, Hathi Jr.
Enemies - Shere Khan, Kaa, King Louie
Likes - Tasty fruits, jazzy swinging music, goofing off
Dislikes - Being mean, violence
Powers and Abilities - Strength
Weapon - Claws
Fate - Stays in the Jungle
Ad blocker interference detected!
Wikia is a free-to-use site that makes money from advertising. We have a modified experience for viewers using ad blockers

Wikia is not accessible if you've made further modifications. Remove the custom ad blocker rule(s) and the page will load as expected.