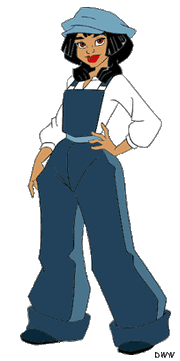 Film -
Atlantis: The Lost Emperor,
Atlantis: Milo's Return
Games - Atlantis: The Lost Emperor
Voice - Jacqueline Obradors
Personality - kind, funny, tough
Appearance - black hair, brown eyes, white shirt, blue jeans, sky-blue hat
Home - Unknown
Allies - Milo James Thatch, Kidagakash Nedakh, Gaetan Mole Moliére, Vincenzo Vinnie Santorini, Joshua Strongbear Sweet, Mrs. Wilhelmina Bertha Packard, Jebidiah Allardyce Cookie Farnsworth, Mr. Preston B. Whitmore
Enemies - Commander Lyle Tiberius Rourke, Helga Katrina Sinclair
Likes - Boxing
Fate - Having gold after the battle against Commander Lyle Tiberius Rourke
Ad blocker interference detected!
Wikia is a free-to-use site that makes money from advertising. We have a modified experience for viewers using ad blockers

Wikia is not accessible if you've made further modifications. Remove the custom ad blocker rule(s) and the page will load as expected.