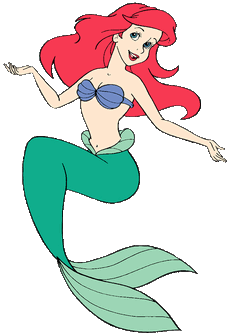 Films -
The Little Mermaid,
The Little Mermaid II: Return to the Sea,
The Little Mermaid: Ariel's Beginning
Games - The Little Mermaid, The Little Mermaid Pinball, Kingdom Hearts
Voice - Jodi Benson
Mayumi Suzuki (Japanese)
Sierra Boggess (Broadway)
Other Names - Princess Ariel
Personality - confident, curious, adventurous, intriqued, obsessed, headstrong, strong-willed, romantic
Appearance - a beautiful young teenage mermaid with very thin wrists and an hourglass figure waist, green tail, purple bra
Occupation - princess of Atlantica
Home - Atlantica
Allies - Sebastian, Flounder, Scuttle, Eric, King Triton, Queen Athena, Ariel's Sisters, Melody
Enemies - Ursula, Flotsam and Jetsam, Morgana and Undertow
Likes - Humans
Powers and Abilities - Able to cast great Thunder magic (Kingdom Hearts only), Able to control water, Superhuman strength/Superhuman endurance. Rapid adaptability
Fate - Becomes human, marries Eric and have a daughter.
Ad blocker interference detected!
Wikia is a free-to-use site that makes money from advertising. We have a modified experience for viewers using ad blockers

Wikia is not accessible if you've made further modifications. Remove the custom ad blocker rule(s) and the page will load as expected.